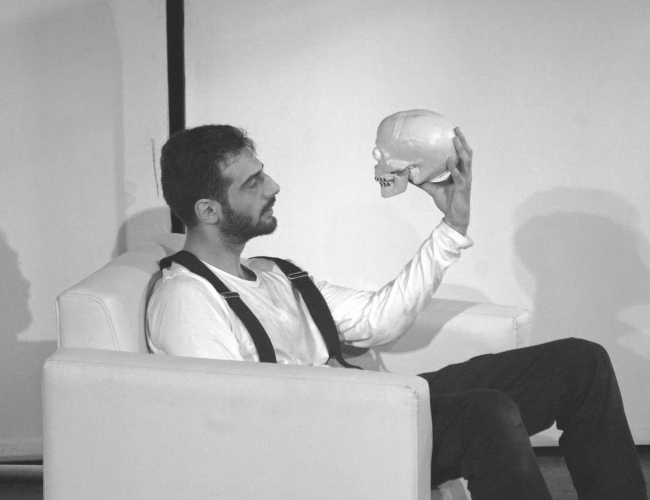 Hamlet/Machine
Director:

Zurab Getsadze

Theatre:

Tumanishvili Film Actors Theatre

Hosting Theatre:

Tumanishvili Film Actors Theatre

Date:
Heiner Müller
Director: Zurab Getsadze
Scenography: Shota Glurjidze, Zurab Getsadze
Costumes Designer: Sopho Mariam Koridze
Choreographer: Keti Asatiani
LIVE Performance: Erekle Getsadze
Video: Giorgi Khositashvili
Assistant to the director: Elene Monaselidze


The Cast:
Paata Inauri, Lia Kapanadze, Keta Shatirishvili, Nini Iashvili, Nanuka Litanishvili, Keti Asatiani, Vano Tarkhnishvili, Nika Tserediani, Gagi Shengelia, Jeje Skhirtladze, Erekle Getsadze.
About Performance:
The play "Hamlet / Machine" presents an unexpected, original point of view of the "Hamlet problem" posed centuries ago - the situation of a thinking person in modern world, for whom it is as difficult to make a custom-based, well-thought-out decision as it was back in 1600 for Shakespeare's character. The so-called "spine" of a play is a postmodern text by a German playwright, which seems to be written about the current events in today's world with desperate people in search of a solution. The play is full of different characters and allusions and therefore allows for many interpretations. The main themes that Müller has raised are world madness, war, feminism, totalitarianism, globalization.
In this conspicuous example of postmodern drama, Hamlet's face is ambiguous and multifaceted, focusing on the human problem in the insane reality of the modern world. It's hard to say whether this is imaginary madness or not.
Müller's internal monologue, like that of Shakespeare, is a model for the formation of the philosopher's tense thought and labor thought. The motive for mixing blood is also present here, although it is not central. The playwright re-imagines Hamlet's question "To be, or not to be" and the question loses all meaning, because even the best representatives of humanity do not have the slightest opportunity to avoid the "The fuss of collective crimes" of the world.


Date of Premire: 03.04.2021
Duration: 80 min, without intermission
We came to change everything in the theatre" – Mikheil Tumanishvili (1921 – 1996)
In 1975 School of Theatrical Arts and Film Actors Theatre was established and began operating on the platform of Film Studio "Kartuli Pilmi" ("Georgian Film"). In 1978 it was officially opened by Mikhail Tumanishvili and his students. Tumanishvili was a driving force in the reformation of the Georgian theatre in the 20th century. He was a director of drama and opera, creator of Georgian Television Theatre, Professor at the University of Arts, theorist and educator.
From its inception, the experimental theatre took a prominent position in the Georgian and international industry of arts. Over a period of years the theatrical school participated in art festivals in Europe, USA, Latin America and Australia where they clinched numerous awards.
The creative group in this theatre (directors, actors) educated by Tumanishvili himself or through his methods continues to seek out new methods and forms to use within the theatrical industry. In recent times the theatre has internationally co-produced several spectacles all of which deployed unique methods and aesthetics.
Tumanishvili's Film Actors Theatre is a government funded entity. Two stages operate within the theatre; the main stage, designed by Tumanishvili, resembles the stage of Shakespeare Globe Theatre and has neither a backstage or a curtain. It is is surrounded by audience on three sides. In 2012 the minor stage was built and is used for theatrical research and educational purposes.
The foyer of the theatre houses an art gallery and an art café.


Contact information:
Theater art director: Vano Khutsishvili
Contact person: Zurab Getsadze
Tel:+995 599 55 09 12
E-mail:zuragest@gmail.com
www.tumanishvilitheatre.ge
Gallery