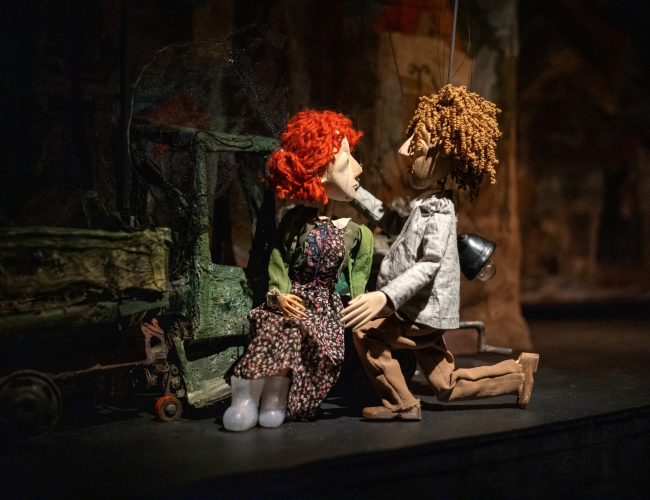 Alfred and Violet
Director:

Leo Gabriadze

Theatre:

Gabriadze Theatre

Hosting Theatre:

Gabriadze Theatre

Date:
Rezo Gabriadze
Director - Leo Gabriadze
Scenography by Leo Gabriadze
Costumes Designer - Rezo Gabriadze
Composer / musical adaptation - Leo Gabriadze
Cast:
Violetta - Nato Kakhidze
Alfred - Vano Dugladze
Germont - Erosi Manjgaladze
Nevermore - Ramaz Chkhikvadze
Narrator - Otar Baghaturia
Cuckoo - Grigol Zhordania
Benedictus - Teimuraz Tsiklauri
Tututsa - Davit Gotsiridze
Hard-as-nails - Nikoloz Kvantaliani
Hundred-Percent - Apolon Kublashvili
Hammer - Nikoloz Katsaridze
Arabian - Rusudan Bolkvadze
Sergo the locomotive - Sergey Garmash
A vendor from Tbilisi flea market - Aleko Begalishvili
A bird from Tbilisi flea market - Nino Arsenishvili
Watermelon Seller - Davit Dvalishvili
Monkey - Nanuka Khuskivadze
Animators:
Tamar Amirajibi
Niko Gelovani
Badri Gvazava
Irakli Sharashidze
Ana Nizharadze
Tamar Kobakhidze
About Performance:
The year 2021 marks the 40 th anniversary of the Gabriadze Marionette Theatre.
This year turned out to be extremely dramatic for the theatre, as its foun er, Rezo Gabriadze, sadly passed away. Rezo Gabriadze was a painter, sculptor, theatre and film director, playwright and writer, whose creative energy formed this theatre and turned medieval marionette art into an indispensable part of Georgian culture.
The history of Rezo Gabriadze Marionette Theatre began in 1981 with the play "Alfred and Violetta," where the eternal love story, well-known as a result of the novel by Alexandre Dumas fils "La Dame aux Camélias (The Lady of the
Cmellias)" and the opera by Giuseppe Verdi "La Traviata," was given a co
pletely new artistic life by Rezo Gabriadze.
After a long interval, the play is returning to the stage, but in a completely new form.
During the year before his death, Rezo Gabriadze almost completely rewrote and renewed the play, adding various new circumstances and characters. He also created sketches of characters and stage decorations, which were used as the basis for the scenography of the renewed play. The initial plan was finalized by the present artistic director of the theatre, Leo Gabriadze, who is the director of this new performance.
The play is set in Tbilisi's Mtatsminda District, as well as in Milan, Khashuri, Rome, Abastumani, Venice and Di homi.
This time, the story of Alfred and Violetta takes place during the dramatic events that occurred in Tbilisi in the 1990s, and their love will have to ove come numerous obstacles …
In the renewed play, you will still hear the voices of R maz Chkhikvadze and Erosi Manjgaladze, who continue to live in our theatre.
It is a special honor for us that the soundtrack was recorded with the particip tion of Anzor Erkomaishvili, who managed to couple Verdi's brilliant music and Georgian folklor
Date of the premiere - December 4, 2021
Duration: 75 minute
Press:
"Gabriadze is a master of theatrical style, in which humor is mixed with heart-breaking pain. With animated figures that live and feel, he creates the unique world full of mystery"
LA NUOVA, VENICE, 2022
The original Georgian marionettes from Gabriadze's Theatre continue the success of the director Peter Brook, in the carnival of Goldoni's theatre's international program "Landscape season without borders"
VENEZIATODAY.IT, 2022
In addition to the sophisticated irony of the text, and the creative aesthetics of the scenes and characters, the performance is remarkable with various merits …it displays the full range of human feelings with marionettes' art.
TRAIETTORIE.ORG, 2022
"Rezo Gabriadze is a Genius, a Poet and a Fantastic Creator…"
HYSTRIO, Milan, 1/2022
The soul of Gabriadze Theatre is in the vision of its founder, Rezo Gabriadze, world-famous georgian screenwriter, director, painter and puppeteer.
Founded in 1981, this small, 80-seat theatre ranks among of the world's preeminent cultural institutions. Presenting mature puppet performances full of depth and meaning, it has gained the respect and recognition of international audiences and critics alike.
At Gabriadze Theatre the following performances have been staged: "Alfred and Violette" (1981), "Diamond of marshal de Fantie" (1982), "The Autumn of my Springtime" (1985), "The Daughter of the Emperor of Trebizond" (1989), "Stalingrad" (1998), "Ramona" (2013).
The Gabriadze Theatre company has toured extensively, with venues including: N.Y.'s Lincoln Center festival; the Avignon Festival, Spoleto
Festival, The Edinburgh Festival; Bogota Theater Festival; San Sebastian Festival, Spain; Toronto World State Festival; Barbican Center, London;
Theater de la Ville, Paris; Kennedy Center Festival, Washington, D.C., etc.
Rezo Gabriadze, who is often referred to as "a Georgian national treasure", passed away in 2021, but his influence on the culture has been lasting and profound. His works continue to leave indelible impact on those who experience them. Since 2012 Gabriadze Theatre has been under the artistic direction of Leo Gabriadze.
Contact Information:
Tamta Turmanidze, Head of Literature Department
Contact Information (Tel, Fax, E-mail, Web site)
Tel: 599573470, mail: tamta_ge@yahoo.co.uk